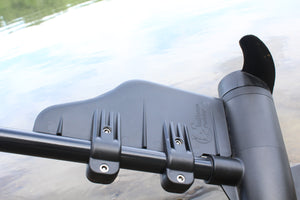 Bullnose Rudder
Clamp on rudder that helps with trolling motor tracking and steering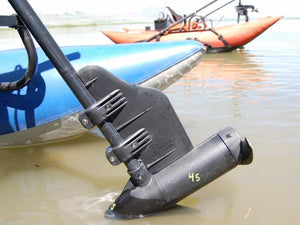 Bullnose Rudder
The Bullnose Rudder clamps tightly to a 1 1/8" (1.125") diameter shaft of a trolling motor, providing a straighter course and making sharper turns while fishing or boating. The Bullnose Rudder offers precision that the trolling motor cannot. It helps improve steering control under windy conditions, and reduces drifting off course.
Patent no. US D712,341S
Buy it Now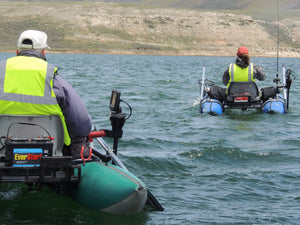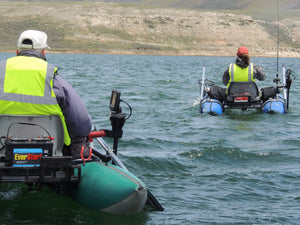 "I put this on my Minn Kota e-drive that I have on a 20-foot pontoon. The difference is night and day. Wind made it difficult to hold a heading, but not with this!"
-Paul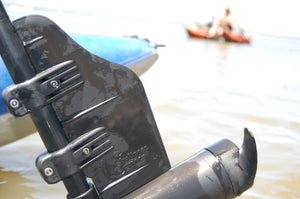 "This makes the turning of the trolling motor feel more responsive, as well as acts like a rudder when the trolling motor is off and I'm paddling. I like it so much I'm buying another for a different kayak build."
-Edwin Robles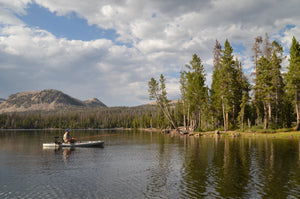 Really easy to install and made a noticeable difference to how my kayak tracks. Fit without issues on Minn Kota Endura 55lb thrust.
-Oscar Hernandez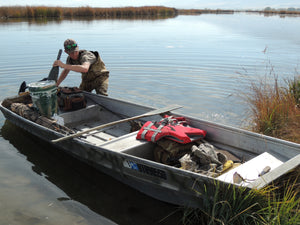 This rudder addition definitely provides improved maneuvering to my trolling motor jon boat and is extremely easy to install. So glad I got this.
-Brian V. Booth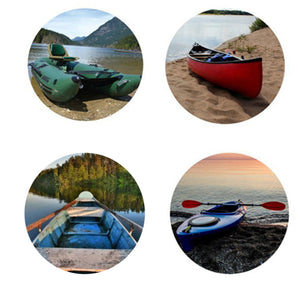 Benefit
Trolling motors are known for a lack of steering ability, especially when the wind picks up, the water is choppy or you want to track in a straight line. Most tiny boats will benefit from having some kind of rudder set up in the back versus not having a rudder at all. Common boats used are inflatable pontoon, Pelican Bass Raider 10E, fishing kayak, canoes, jon boats, tiny boats and more.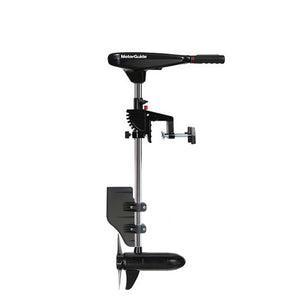 Performance
The Bullnose Rudder was designed to fit a transom trolling motor. It has a unique shape to accommodate your prop. If there is not enough clearance between the shaft and the prop, simply flip it upside down. It will perform just the same while allowing the prop to spin freely without any interference.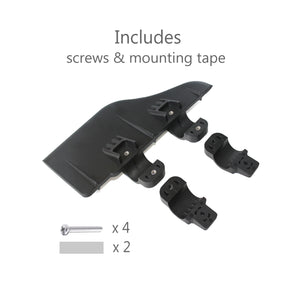 Installation
Only takes a few minutes to install and you're ready to go. If the shaft is slimmer than 1 1/8" (1.125"), no worries; there is double-sided mounting tape provided in the packaging to shim a thin shaft.
Shop Now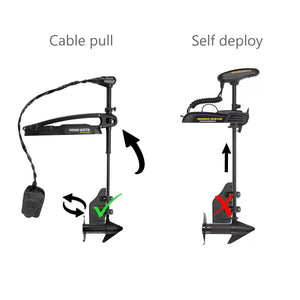 Bow Mount
Fits the Minn Kota, EDGE, MAXXUM and FORTREX. The bow mount motor must be a hand cable pull, NOT self deploy. Self deploy will not work because the system requires the shaft to slide up and down where the rudder needs to be attached. However, a hand cable pull will allow you to carefully bring the motor up out of the water on the motor mount.
Check Out This Video
Bullnose Rudder for electric trolling motors
"I have a small 10 ft pram boat that sits as flat and shallow as a boat can. This rudder is a must to go where I want and not be controlled by wind and current."
"It makes the electric trolling motor more responsive to steering. This is a big advantage in the wind or maneuvering in tight spots - like docking."
"Used on a windy day with my new 46lb Newport motor and it was an amazing combo."
"Love this thing. I have a 9 ft. Catch PWR 10 Pelican with a 55 lb thrust trolling motor. And it's a must have all around drift fix, from calm to turbulent. And it turns on a dime..."
Quality!
The Bullnose Rudder is the "original" – first of its kind, invented by the founders. Not only is it very well constructed, it is made from a thick nylon material to withstand any knocking around during transportation while on the boat.